Neutral Earthing Resistors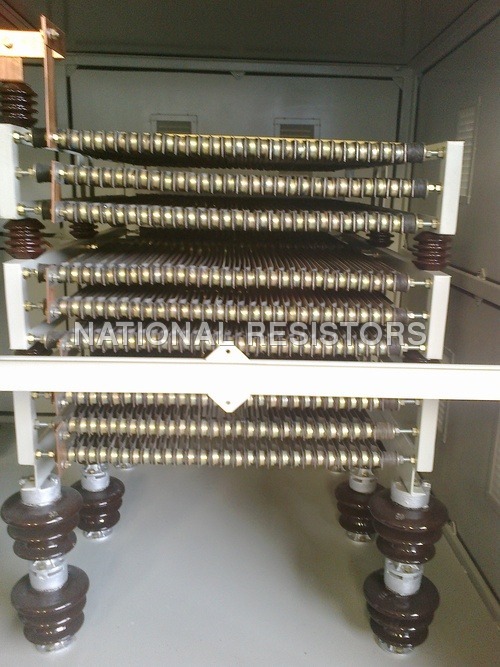 Neutral Earthing Resistors
Price And Quantity
Unit/Units

60000.00 - 500000.00 INR
Product Specifications
Earthing Resistors

For Industrial Use
Product Description
Owing to the rich expertise in this domain, we "National Resistors" are successfully catering to the needs and demands of our valued patrons by manufacturing, supplying and exporting high-grade Neutral Earthing Resistors which efficiently hold the inappropriate current down for safeguarding the further damage to transformers & switch-gears. These are widely used in low & medium-voltage AC supply networks for restricting current flow originating from neutral point of a transformer in case of an earth fault. Our well designed range of NER in desirable voltages for any current value and time rating, therefore having successful application in various residential and commercial establishments like offices, malls, hotels and hospitals worldwide. Strongly conjoined between the neutral point of earth and transformer, these resistors protects the whole system from mishap. We stringently test Neutral Earthing Resistors for quality through various quality checking parameters ensuring their defect-free characteristics.
Neutral Earthing Resistors Purpose:
Neutral Earthing Resistors (NER) are employed in AC Distribution Networks to limit the Restricted Earth Current to a safe value which would flow from the Transformer or Generator star point in the event of an earth fault in the system without exceeding specified temperature limits. In case of short time rating, dissipation is negligible & the temperature rise for the resistor element depends on its capacity to store the energy generated in proportion to the mass & specific heat of the material used. Theses NER are connected between the neutral point of transformer / generator & the earth
In no Earth fault condition continious current of 5 % to 10 % of full load current may pass through the resistor due to unbalance in system
In Earth fault condition the Restricted earth fault current passes through the Metallic Resistor protecting the system till automatic protection takes place by absorbing the earth pressure, protecting the winding etc.
Internal Features Of Resistor Enclosures:
Group of Resistance elements are mounted together to form a Bank. Banks are then connected in series or parallel to provide the current and ohmic value required.
All Resistance Bank to Bank interconnections will be done by solid stainless steel / copper.
Insulation between resistance element and supporting tie rod is provided by a mica tube.
In case of continuous current ratings for better heat dissipation, perforated sheet / jali with welded GI wire mesh is provided at the bottom.
Foundation channels welded or bolted to the angle iron structure are provided on two sides with arrangement to fix on foundation by bolts at site.
Terminals are brought through Porcelain bushings of appropriate voltage class or brought down as per requirement of customer.
In case of higher voltage, the banks are placed on stand off insulators housed inside the enclosures, or the enclosures is also insulated from ground by using stand off insulator if asked by customer
The enclosures designed to give degree of protection required as per customer's requirement for outdoor application DOP-IP-33.
Canopy is sloped to prevent accumulation of water. Overhang is provided to cover terminal box.
Forged Eye bolts on Lifting Angles ensure easy handling.
Removable bolted side covers of suitable thickness mild steel (M.S) are louvered for ventilation.
The enclosures are painted with synthetic enamel paint of specified shade. Other option are epoxy paint or Aluminum paint. Oven drying or stoving is done on request.
Tests :
(A) ROUTINE TESTS:


Visual and Dimensional
Resistance value measurement with 10 % tolerance
Insulation resistance value measurement by using 500V / 1000V megger before and after dielectric test
H.V. Test of twice the rated voltage +1000 volts for voltage class below 660 volts or 2.25 times of rated voltage +2000 volts for voltages above 1100 volts.

(B) TYPE TESTS :

Temperature rise test i.e., Heat run test if required will be conducted by passing equivalent / rated current for rated / equivalent time keeping IT Constant through a part of Resistor.
Advantages:
Having non anti frost heating facility
Neutral Earthing Resistors (NER) value is precise
Resistors are easier to install
Require virtually no maintenance
Valve remain constant throughout lifetime
Temperature have shorter time constant facility
Such Resistors have longer life and having nor anti condensation heaters
Require constant maintenance due to evaporation of gel and electrolyte the liquid resistors
Product Information:
Resistors having various types of Enclosure facility
Installed both in Indoor or outdoor locations
Duty rating 10 sec., 30 sec., 60 sec., & continuous etc
Having both operating voltage and system voltage system
Grounding Resistor temperature can be rise over ambient temperature
Having material for enclosure (protection class as per IS-12063)
Accessories Require such as current transformer, space heater, isolating switch on load & off load, manually or motorized
Specifications:-

Resistance: - Resistors up to 66 KV
Time Duration:- 10 sec., 30 sec., 60 sec.
Material: - Stainless Steel, FeCrAl, Cast Iron, Copper Nickel or Nichrome.
Temperature:- 375 Degree Centigrade /760 Degree Centigrade or as required by the customer.