Starting Resistors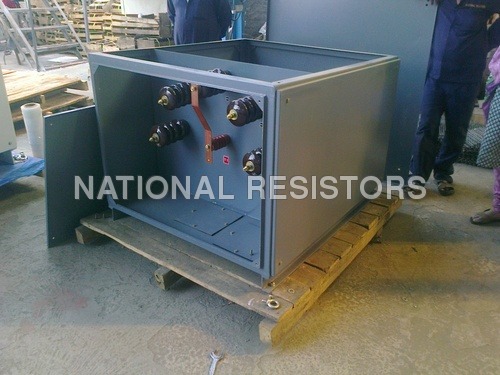 Starting Resistors
Price And Quantity
Unit/Units

500000.00 - 3500000.00 INR
Product Specifications
Resistors

For Maintaining Power
Product Description
We are offering Starting/Speed Control Resistor. For starting / Speed Control of A.C or D.C. Motors, resistors are manufactured as per customers requirement at specified starting torque or for limiting initial inrush current to an acceptable value. Mainly these are used for cranes. Rating can be 2 minute, 5 minute, 10 minute, continuous or intermittent. Material of resistor is normally Stainless steel AISI-304, AISI -410 or AISI 430 or FeCrAl-AISI-406.
Standards Followed:
IPSS-1-10-002-82 with amendment no.1 and BS 587 for starting / speed control resistor.
IS 2147 & IS 12063 of 1987 for degree of protection for enclosure.
IS 5 for paint shade.
Any other standard as required can also be followed
TESTS:-
(A). ROUTINE TESTS: - FOLLOWING TESTS WILL BE CONDUCTED.
Visual and Dimensional
Insulation resistance value measurement by using 500V megger before and after dielectric test.
Resistance value measurement with 10 % tolerance.
H.V. Test of twice the rated voltage +1000 volts for voltage class below 660 volts.
TYPE TESTS:-
Temperature rise test i.e., Heat run test if required will be conducted by passing equivalent / rated current for rated / equivalent time keeping IT Constant through a part of Resistor.
Starting / Speed Control resistor Product Information:
Rotor volts at standstill.
Rotor Current at full load.
Duty rating (Time on / off No. of Cycles).
Starting Torque in percentage of full load Torque.
Material of Resistor.
No. of steps / sections and its resistance values per phase.
Type of enclosure (Protection Class as per IS-12063).
Temperature rise allowed.
Whether terminals should be brought down at one place.
Details of atmospheric conditions at site.