Neutral Grounding Resistor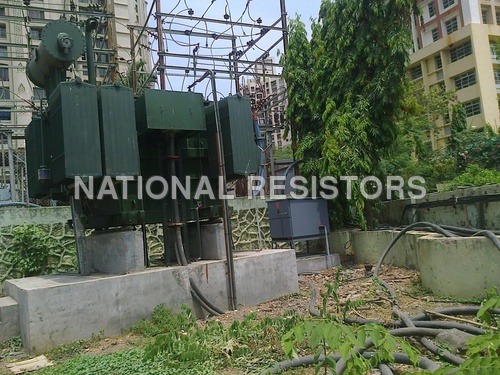 Neutral Grounding Resistor
Price And Quantity
, Unit/Units

100000.00 - 800000.00 INR
Product Specifications
Grounding Resistor

14400 Volt (V)
Product Description
Since 2004, we have been manufacturing, exporting and supplying Neutral Grounding Resistor. Under the proper observation of our experts, the offered resistor is manufactured by utilizing fine grade components with the aid of modish techniques. This resistor is extensively used in industrial power system for the purpose of grounding generators and transformers and are made using steel cast iron, FeCrAl and nichrome. The temperature rise of these resistors is normally 375oC/760oC which can be changed asper the needs of customers. Neutral Grounding Resistors are applicable to AC distribution network for preventing any fault which would occur due to fault in earth wire. Furthermore, the offered NGR can be availed from us at reasonable rates. Basically, Neutral Grounding Resistor is a resistance that is linked between neutral points of earth and transformer.
Neutral Grounding Resistors Operational utilities and benefits:
Eliminates various problems such as transitory over, lower voltages, inverse flash, inadequate current flow and others.
Gives protection to transformers from damage and burning.
The ohmic value remains constant, even if the temperature rises.
Reduces the potential ground-fault current to a predetermined value.
Also named as Earth Fault Protection, this prevents fault damage.
Employed for earth fault protection in the many of the medium voltage electricity generation as well as distribution systems.
Offers the best choice in terms of quick response to figure out the setback.
Prevents and minimizes the overheating and mechanical stress on the conductors.
Permits to hold down the ground faulty current for a short period of time to promptly discover the fault, besides protecting the transformers.
Product Specifications:

Material of Resistance Element : We offer resistor elements made from any stainless steel or FeCrAl or Cu-Ni or Ni-Cr or any other resistance material as per requirement. Normally formed stainless steel element are best and economical for NGRS.
Temperature Rise Allowed: Normally Temperature rise is restricted to 375 deg.c. above ambient temperature as per BS-587. It can be 760 deg.c. as per IEEE-32. It can be offered of any other temperature rise as per customer's requirement.
Construction: NGR include resistor assembly, plus required insulators, internal connections and hardware etc.
Different type of Enclosure facility available
Our provided can be install both in indoor or outdoor locations
Is available with both system voltage and operating voltage system
Duty rating 10 sec., 30 sec., 60 sec., & more..
Grounding resistor temperature can rise over ambient temperature
As per IS-12063 having material for enclosure
Cabling / Termination : Suitable arrangement and clearance is provided for termination of cable, flats or bus duct as per requirement with undrilled removable gland plate.
Important Definitions & Construction:

Rated Voltage : For NGR rated voltage means line- to neutral voltage i.e. System Voltage divided by root3 i.e. 1.732.
Rated Current : Means Initial current that will flow through resistor when it is cold. Normally Full load current value is same as Rated current.
Time Rating : It is length of time for which NGR must tolerate rated voltage.
Short Time Rating : Normally it is 10 sec. or 30 sec. or 60 sec. depending on design parameters of protection system. IS-3043 recommends 30 sec. rating.
Continuous Rating : It is normally 10 % of full load current for healthy system NGR to be designed for continuous rating of 5 % to 10 % of full load current (if required).
Tests:
(A) Routine Tests :

Visual and Dimensional
Resistance value measurement with 10 % tolerance
Insulation resistance value measurement by using 500V / 1000V megger before and after dielectric test
H.V. Test of twice the rated voltage +1000 volts for voltage class below 660 volts or 2.25 times of rated voltage +2000 volts for voltages above 1100 volts.
(B) Type Tests :
Temperature rise test i.e., Heat run test if required will be conducted by passing equivalent / rated current for rated / equivalent time keeping IT Constant through a part of Resistor.
Features Provided:
Our range of NGR For Transformers does not need continuous monitoring or maintenance and is directly connected to the MV & LV supply network in order to render shield to transformers from harmful current. Offered Neutral Grounding Resistor comes with better features between the neutral point of the transformer and the ground, which Some features are below:
Safety Screen for enclosures.
Potential transformers.
Neutral Grounding Transformer / Excitation Transformer.
Supporting Pedestal structures.
Stand off insulators.
Aluminum enclosure instead of MS.
Hot dip Galvanized enclosures.
Stainless steel hardware.
Earth fault leakage Relay.
Termination kit.
Cable gland.